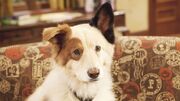 Yay for G Hannelius! She just booked a new show on Disney Channel called, Dog with a Blog, with Lemonade Mouth's Blake Michael! Check out the link below to check out the info!
http://disneychannelmedianet.com/web/showpage/showpage.aspx?program_id=3146687&type=lead
Ad blocker interference detected!
Wikia is a free-to-use site that makes money from advertising. We have a modified experience for viewers using ad blockers

Wikia is not accessible if you've made further modifications. Remove the custom ad blocker rule(s) and the page will load as expected.