Locked
This blog has been permanently locked. Please do not unlock this blog.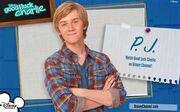 Pj is the oldest and the dumbest. He likes to go to the mall with Charlie to get girls. Pj usually does his school work at the last minute. His girlfriend is Skyler. Skyler and Teddy got cheated on by Spencer. Skyler isnt very smart either but that is why her and Pj are perfect for each other. Pj's best friend is Emmett. Emmett has a very big crush on teddy and he had it ever since he met her. Emmett used to date Ivy but Ivy broke up with him and now hates him.
Ad blocker interference detected!
Wikia is a free-to-use site that makes money from advertising. We have a modified experience for viewers using ad blockers

Wikia is not accessible if you've made further modifications. Remove the custom ad blocker rule(s) and the page will load as expected.