Locked
This blog has been permanently locked. Please do not unlock this blog.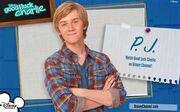 Spencer is who Teddy has a crush on. Tedddy was dating Spencer and she saw him with his arm around Skyler and Spencer told Teddy that Skyler was his cousin and he told Skyler that Teddy was his girlfirend. When they found out he was cheating on them the got very sad and wouldnt talk to anyone.Ivy brought Skyler to Teddys house and they became friends then Pj came and when him and Skylers eyes first met they both liked each other so now their dating.
Ad blocker interference detected!
Wikia is a free-to-use site that makes money from advertising. We have a modified experience for viewers using ad blockers

Wikia is not accessible if you've made further modifications. Remove the custom ad blocker rule(s) and the page will load as expected.