Teddy and Gabe
Teddy and Gabe have the traditional brother-sister relationship. Deep down, they care about each other, but they're always getting on each others nerves.
Gabe's opinion of Teddy
Gabe sees Teddy as a loser, because she is the middle child of the family. He was amused when Charlie puked on Teddy, however, Gabe loves his older sister and cares about her. He was shown to be concerned when Teddy told him that she talked to Jo, asking if Jo beat Teddy. Also, he and PJ didn't have enough money to buy Teddy the present she wanted, so they sang a rap piece for her.
Teddy's opinion of Gabe
Although Gabe annoys Teddy alot she loves him, In Study Date, it is mostly about Teddy and Gabe's relationship. Teddy and Gabe are always there to help each other. Plus, Gabe in season 4 is a lot nicer and Gabe and Teddy have a better relationship. They are really close as brother and sister.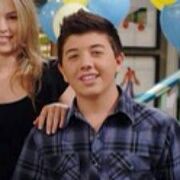 Ad blocker interference detected!
Wikia is a free-to-use site that makes money from advertising. We have a modified experience for viewers using ad blockers

Wikia is not accessible if you've made further modifications. Remove the custom ad blocker rule(s) and the page will load as expected.