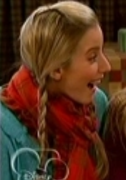 Sarah
has a crush on
PJ
but so does
Katy
(her sister), they try to win him over by doing what ever he says. She lives in a lodge with her sister and pop and doesn't normally have boys over. She is portrayed by Katelyn Pacitto.
Physical Appearance
She has blonde hair which she ties up into pig tails, she also has light blue eyes.
Appearances
Ad blocker interference detected!
Wikia is a free-to-use site that makes money from advertising. We have a modified experience for viewers using ad blockers

Wikia is not accessible if you've made further modifications. Remove the custom ad blocker rule(s) and the page will load as expected.