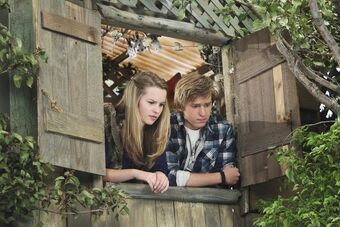 Peddy
is the shipping/relationship of
P
J/T
eddy
.
Even though Teddy is annoyed by PJ's loud music and finds him rather lazy and unmotivated, she still loves him, like she does all her other siblings.  When they were younger, they used to fight a lot.  
Teddy's opinion of PJ
Even though Teddy thinks PJ is stupid, Teddy is always there for him. And with PJ's help and sense of humor she was able to accept Spencer going to college in Boston. She thinks PJ is wise and funny.
PJ's opinion of Teddy
PJ is There for Teddy most of the time. He was upset when she stole his spotlight at Kwicki Chicki just by walking in, at the end she got herself fired to make it up to him. PJ successfuly helped Teddy let go of Spencer as he moved to Boston to go to college.
Important Moments
Gallery