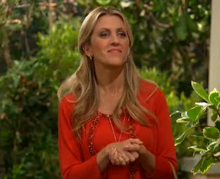 Linda Walsh is Spencer Walsh's mom and She lives with Paul Walsh and Spencer.
Personality
Lynn Walsh appears in Charlie Goes Viral and is friendly to her guests, though, she laughed at Teddy's family. She has a comfort chair and snacks that Teddy likes, and lives in a big house with Spencer and her husband. She appears in Baby Steps and appears to be more reserved in this episode. Teddy accidentally caused her to go to the Emergency Room when she put Linda's tongue on an ice sculpture after she drank some piping hot tea.
She even says in the episode, Charlie Goes Viral that her name is Linda but in Baby Steps, her name is Lynn. Later, we find out that Lynn is Linda's nickname.
Physical Appearance
Lynn Walsh is portrayed by Stacey Travis, but she is portayed by Andrea Bendewald in Baby Steps.
Background Information
In Charlie Goes Viral, she is portrayed by Stacey Travis, but when she returns in Baby Steps, she is protrayed by Andrea Bendewald.
She appears without Paul in one episode.
Her real name is Linda Walsh, but goes as Lynn.