Good Luck Jessie: NYC Christmas
Comments

22
446pages on
this wiki
"{{{title}}}"

Season 4, Episode {{{number}}}

  Information
Writer(s)

Bo Belanger & Jonah Kuehner
Valerie Ahern & Christian McLaughlin

Director

Phill Lewis
Rich Correll

  

Episode Guide
Good Luck Jessie: NYC Christmas is an hour-long crossover special with Good Luck Charlie and Jessie. It premiered in the United States on November 29, 2013. This episode was seen by 5.8 million people.
Synopsis
Act 1
Teddy is accepted into NYU, so she goes with PJ to New York. Meanwhile, Bob and Amy try to find out what Carlie wants for Christmas.
Act 2
After Ravi is experimenting with his new science kit, it knocks out PJ, Teddy, Jessie and the Ross family, leading them to find out where there presents disappeared to.
Plot
In the crossover episode, Teddy and PJ travel to New York City to tour NYU, but a blizzard prevents their return home in time for Christmas. After meeting Jessie and Zuri on the subway, they embark on a Ross family holiday like no other. Back in Denver, Bob takes the Charlie to see Santa, but Gabe isn't in the holiday spirit. Meanwhile back in New York, Teddy and PJ's flight home is cancelled due to snow and they need to find a place to stay. Teddy asks Jessie if they can stay at their apartment and she says yes. When they first arrive, PJ and Teddy are astonished at its luxurious interior. Jessie, the kids, Teddy, and PJ all wake up confused the next morning having no recollection of Christmas Eve, the presents are missing, and a reindeer is found in the theatre room. As they try to recount the day Jessie remembers that she hid the presents for a scavenger hunt. They finally find them and Bertram gets locked in a locker. It turns out Ravi got a chemistry set, but Luke added a potion that knocked out everybody except Bertram and Prancer the reindeer was stolen by Teddy and Zuri and they became wanted. The chemistry set explained why they forgot everything from the previous night. They find their gifts from the treasure hunt in the locker beside Bertram but gave them away to the charity that Prancer was "working" for, because by taking him they ruined the main singer's voice when he went looking for him all night. Jessie sings in his place and doesn't attract nearly as big of a crowd as expected.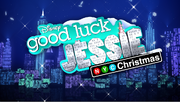 Cast
Jessie Cast
Production
International premieres
December 8, 2013 (Latin America)
Memorable Quotes
Trivia
This crossover special was filmed during Good Luck Charlie's fourth season and Jessie's third season. 
This episode began as a rumor. 
According to the script, Skyler will return in this episode, as she left for New York in PJ in the City.
This is the second time that an episode took place in New York City, the first time being in PJ in the City.
This episode reveals that Good Luck Charlie, Shake it Up, Austin & Ally, and Jessie all live in the same universe.
PJ is back in New York City.
PJ and Skyler get back together.
Even though he is seen at the opening sequence, Toby isn't seen or mentioned in the special.
The Ross Kids' parents didn't come home for Christmas.
The episode is also known as two parts: "NYC Christmas" and "Good Luck Finding Your Presents".
This is the final Good Luck Charlie crossover.
Errors
Teddy says she got accepted to NYU (New York University) in this episode, but in "Demolition Dabney" she got accepted to Yale University.
This episode takes place during winter/christmas, however the next few episodes take place during summer, the weeks before/during when Ivy and Teddy leave for college
Gallery