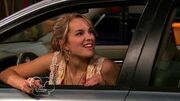 Ed
is
Teddy
's car. He was first introduced in "
Can You Keep a Secret?
". He prefers to be called by his full name, Edward.
History
Can You Keep A Secret?
In "Can You Keep A Secret?", Teddy is trying to earn money to buy a car by working at Super Adventure Land. However, to keep her from having to kiss Spencer, Amy buys her Ed. After a long time, Teddy decides to give Ed back in order to date Spencer, but Amy lets Teddy keep both boys. In the end credits, it is revealed that Ed can talk, but is, as Teddy says, boring because he's a good guy. However, he fakes dying, and Teddy decides he's not boring.
Special Delivery
In "Special Delivery", Teddy drives Bob and Amy to the hospital in Ed. But when he runs out of gas, they ride on an ice cream truck instead. Ed does not speak in this episode, and nothing important happens to him other then him running out of gas.
Ad blocker interference detected!
Wikia is a free-to-use site that makes money from advertising. We have a modified experience for viewers using ad blockers

Wikia is not accessible if you've made further modifications. Remove the custom ad blocker rule(s) and the page will load as expected.