The Dabneys are next door neighbors to the
Duncan family
. Like all the other family's that live on their street they have a
D
as the first letter in their last name.
Mrs. Dabney
lived with her husband before he moved out and got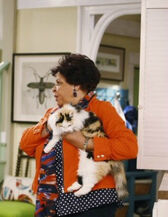 divorced (
It's a Charlie Duncan Thanksgiving
). Their son, Rodney, moved out when he grew up.
There was a picture of Rodney, and he was black. So Mr Dabney must have been black, or they could have adopted him.
Their are currently 5 family members:
Family tree
Ad blocker interference detected!
Wikia is a free-to-use site that makes money from advertising. We have a modified experience for viewers using ad blockers

Wikia is not accessible if you've made further modifications. Remove the custom ad blocker rule(s) and the page will load as expected.