The Story of Beddy.
Teddy and Beau met at the end of Rat-a-Teddy and between Teddy's new Beau and Teddy's Choice they were really good friends. Now they are getting to forget about Spencer after he moved to Boston and Beau is having a long distance relationship from his ex-girlfriend, Julie.
Status: Good Friends in Rat-a-Teddy and Teddy's New Beau// Dating from Teddy's Choice.
Beddy's Dating Date: August 3rd 2013- present Beddy's First Moment: On Rat-a-Teddy when Beau have a job in Bob's Bug Be Gone, Teddy called his dad because there was a rat in PJ's apartment while Teddy and her friends were having a slumber then when Beau caught the rat, Teddy and Beau stare at each other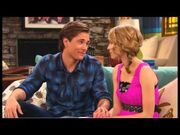 They could break up in Bob's Beau Be Gone because Beau is moving back to Tenesse for good.
Ad blocker interference detected!
Wikia is a free-to-use site that makes money from advertising. We have a modified experience for viewers using ad blockers

Wikia is not accessible if you've made further modifications. Remove the custom ad blocker rule(s) and the page will load as expected.